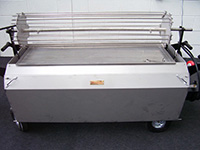 Already own one of our hog roasters? Why not increase the versatility of our machines with the addition of this brilliant chicken spit kit. Now you can cook up to 36 whole chickens in one go and treat your guests to something a little bit different. This accessory can also be used to cook whole turkeys, beef cuts and pork legs too. If you're looking for a flexible and striking extension for your hog roaster, this is it.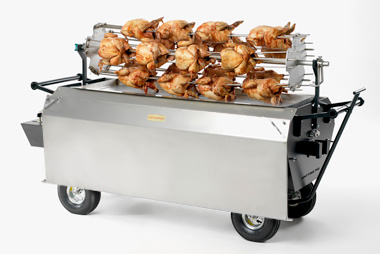 The chicken spit kit from Hog Roast Machine London works using the standard spit pole gadget and 240v motor, it holds and rotates a grand five arm stainless steel rotisserie. On our Platinum machine this can be seen through the handy viewing window which your guest will enjoy peeking in to. When the chicken is cooked, it's time to raise the rotisserie for carving. This couldn't be easier to do. Remove each arm one by one to make accessing each carcass simple without affecting the overall look.
Each of our roasters and accessories has been designed by hog roast professionals to ensure they're top of the range but still easy to use by even the most novice chef. Get in touch today to find out more about how we can help with your hog roaster hire or purchase.