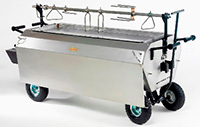 Celebrate the delights of traditional spit roast cooking with the purchase of our brilliant hog roast kit for your Titan, Platinum or Hog Master roasting machine. This modern spit pole set comes with the sturdy spit pole itself and an efficient 240v motor, used to provide even cooking results and that captivating spinning visual. There's something exciting about seeing the slow turning hog roasting away! See your guests watch in awe.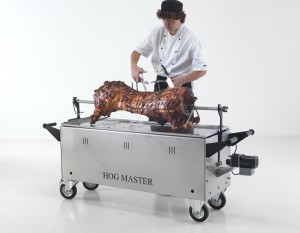 Our spit roasting kit can hold an impressive 80kg hog, big enough to feed hundreds of hungry guests whatever the occasion. As the meat slowly cooks you can watch the pig sizzle and crackle, before lifting into the open air for carving. Just use the support bars to raise your finished hog into the serving position – the fragrances that will meet you are something to relish. Then it's time to carve into the handy carving tray beneath, which can also be used as a hot plate to keep your cuttings warm.
If you want to hog your roast with drama, then you really do need to hire or buy a spit roast kit from Hog Roast Machine London! We'll help you ensure your catering is a talking point at your next event!
Give us a call today to discuss this or any other of our accessories.